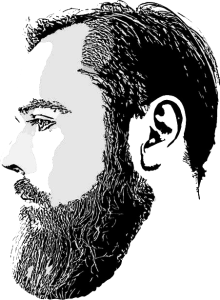 Rune is the ancient norse word for secret lore. Rune is also a digital consultant, heritage interpretation specialist, exhibition planner and new media enthusiast. I enjoy experimenting anywhere between the extrema of the virtuality continuum and I have worked with the web, exhibition planning, learning and interpretation, research, writing, marketing and project management in the GLAM sector for longer than I dare to remember.
Originally trained as historian and anthropologist, I'm an experienced digital GLAM-professional and independent creative. I believe in open, non-proprietary standards, the free dissemination of knowledge, tolerance and tech in life and everywhere. And life – I argue – will generally improve if we all just share a little bit more.
I'm the proud father of two grown-up sons and one 6 year-old, a peaceful man, a guitarist with a full beard, passionate about traditional longbow archery, fishing and hunting. I live on an old farm from the 18th century in the hilly countryside of Mols on the peninsular Djursland with my girlfriend and son – joined by two dogs, two cats, three horses and a growing numbr of ducks. I'm convinced that it's good to have an end to journey toward; but it's the journey that matters, in the end.
Whether you're in need of a digital heritage consultant, want to discuss historical reenactment practices or just want to say hello you are welcome to reach out using the social links above or shoot me an e-mail.